Hotels/Tours/Flights
Accommodation
Tokyo offers more than 96,000 rooms ranging from budget hotels to five-star luxury hotels, assuring friendly, high-quality service for guests. There are more than 6,000 rooms within 30 minutes by local transportation and/or walking distance to the venue.
Tours
The Tokyo Metropolitan Government will offer the following complimentary tours and cultural programs for overseas guests of ICIAM 2023. These tours will take them to the main tourist sites in Tokyo during the Congress, and cultural programs will offer outstanding exotic experiences.
Tokyo City Tour – Half-day Tour
Japanese Garden & River Cruise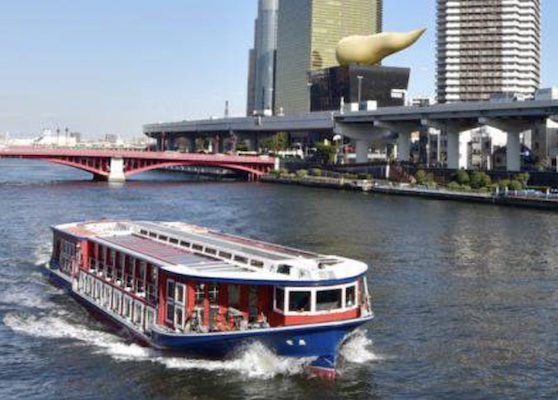 This tour will take visitors to traditional Japanese gardens, such as the Hama-Rikyu Gardens, a typical garden of the Edo period (1603–1868), or the Imperial Palace East Gardens, a part of the palace grounds open to the public, and the former site of Edo Castle. A river cruise from the Hama-Rikyu Gardens will offer views of Tokyo from the river.
Asakusa – Japan's Most Famous Temple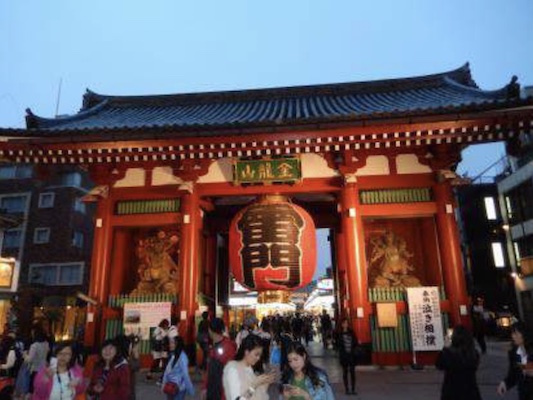 The tour will take you to Asakusa, which is the old center of downtown Tokyo, and the most famous sightseeing spot in Tokyo. The area maintains the atmosphere of the old capital, with its 200m-long covered avenue of numerous stalls leading up to Japan's most famous Buddhist temple, Sensoji. You can find traditional shops to buy souvenirs or Japanese local sweets and fast food along the market street.
One-day trip from Tokyo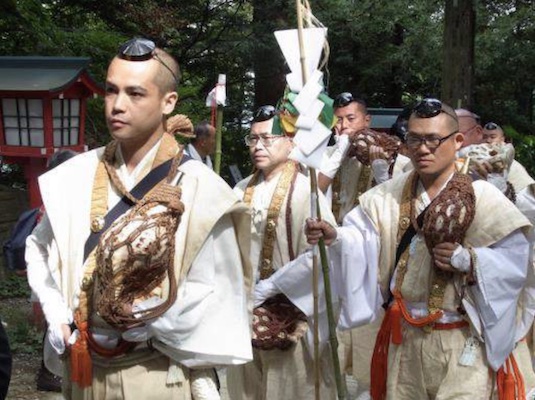 Mt. Takao – The western fringes of Tokyo Travel beyond the western suburbs of Tokyo to a place where you can feel the Japanese spiritual world coexisting with nature. Mt. Takao is both a popular hiking spot and a religious destination. It takes approximately 90 minutes from the venue to Mt. Takao, where you can enjoy clean, fresh air in a natural environment. You can also experience Goma Kito, a ritual fire performance by a priest. Shojin ryori, Buddhist vegetarian cuisine, is included for lunch in the tour.
Cultural Programs
The Tokyo Metropolitan Government will offer the following complimentary cultural programs for delegates and accompanying persons to experience first-hand the unique culture of Japan.
Origami-Paper Miracle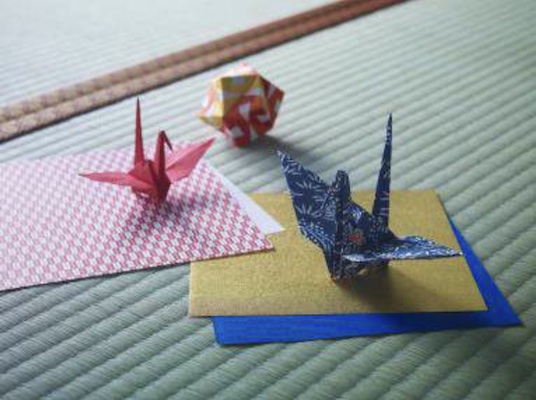 Origami, literally meaning "folding paper", is a traditional Japanese art of transforming a flat square sheet of paper into a finished sculpture. You can create almost anything with origami, from a simple airplane to flowers and animals. The most popular origami is a Japanese crane.
Cha No Yu – Japanese Tea Ceremony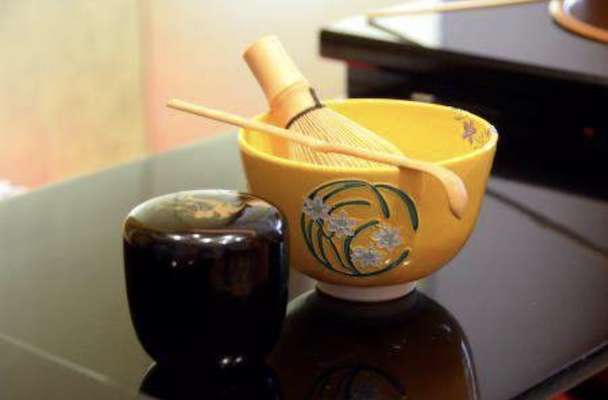 Cha-no-yu is not just about the ceremonial way of serving tea; it is an art form that also concentrates on the relationship between the host and the guest. In the search for the ultimate hospitality, each encounter is treasured as a once-in-a-lifetime event. Guests can experience the beauty and elegance of cha-no-yu.
Dress in Kimono – Japanese Traditional Clothing

Kimono is a Japanese traditional clothing made with fabrics frequently hand-made and decorated. Kimono was worn in daily life in Japan in olden times, and is still worn on special occasions such as weddings and tea ceremonies. Guests can try out Kimono and enjoy taking photos.
Flights
Tokyo, great access from all over the world
Tokyo provides great direct air access for overseas travelers and is served by two international airports: Narita International Airport and Tokyo International Airport (Haneda). Narita offers over 1,400 international flights per week from 107 cities around the world, while Haneda offers over 600 international flights per week from 30 major cities.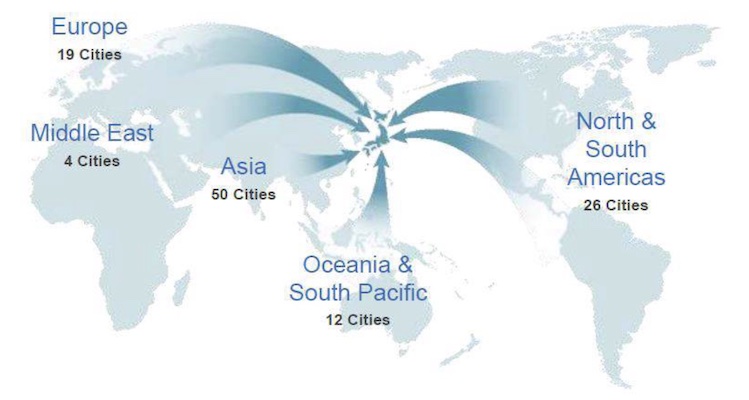 Narita International Airport
2nd largest and busiest airport in Japan, serving 35 million passengers a year
Connected with 107 cities worldwide
88 international airlines serve the Airport
Haneda International Airport
Largest number of flight arrivals/departures in Japan
Located near the city center, 15 minutes to Tokyo Station
Over 600 international arrivals per week
Connected with 28 cities around the world with plans for increase
33 international airlines serve the Airport
Arrival at the airport
Narita International Airport is about 60 km from central Tokyo, and is easily accessed by either the Narita Express in 60 minutes or the new Skyliner Access Express in 40 minutes. Haneda International Airport is even more convenient, located within 15 km (15 minutes by train) of central Tokyo. Within the city, a well-developed network of public transportation allows easy and convenient movement in and around the city. Major modes of transportation include trains, subways, buses and taxis.
Waseda University is located near the Shinjuku area in the heart of Tokyo. All delegates can easily travel to the venue, it takes 30–40 minutes from Haneda Airport to Shinjuku area by the Airport Limousine shuttle bus.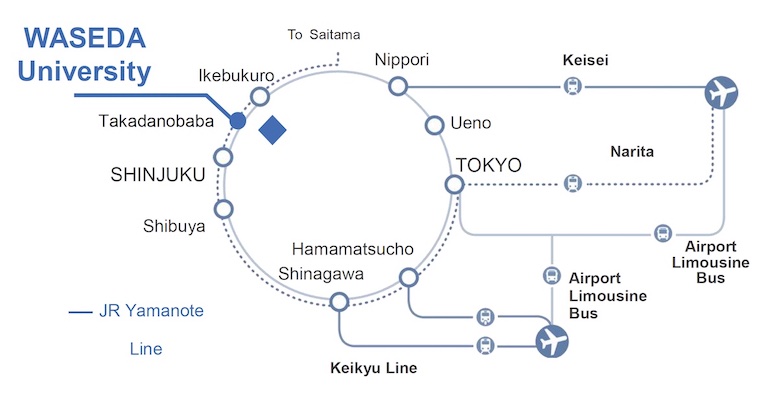 Access within Tokyo
An extensive network of trains and subways runs through central Tokyo, offering convenient and easy commuting. The unique numbering system of the Tokyo Metro, which identifies the metro lines as well as each station, makes it easy even for first-timers to know which lines to get on and off. In addition, the safety and cleanliness of the trains and subway cars means that travelers have no hesitation about making full use of the transportation system, even at night. Taxis run widely in Tokyo, and can be stopped on the street curb as well as at taxi stands in front of hotels, train stations and large buildings. Taxis are clean and comfortable, offering white-glove service.
A network of train lines operated by JR East Japan and the subway lines of Tokyo Metro and Toei link stations around Tokyo. Symbols and signs at the stations are multilingual in English, Korean and Chinese. Train timetables are located on the platforms and trains move very punctually.
Tokyo Railway & Subway Route Map